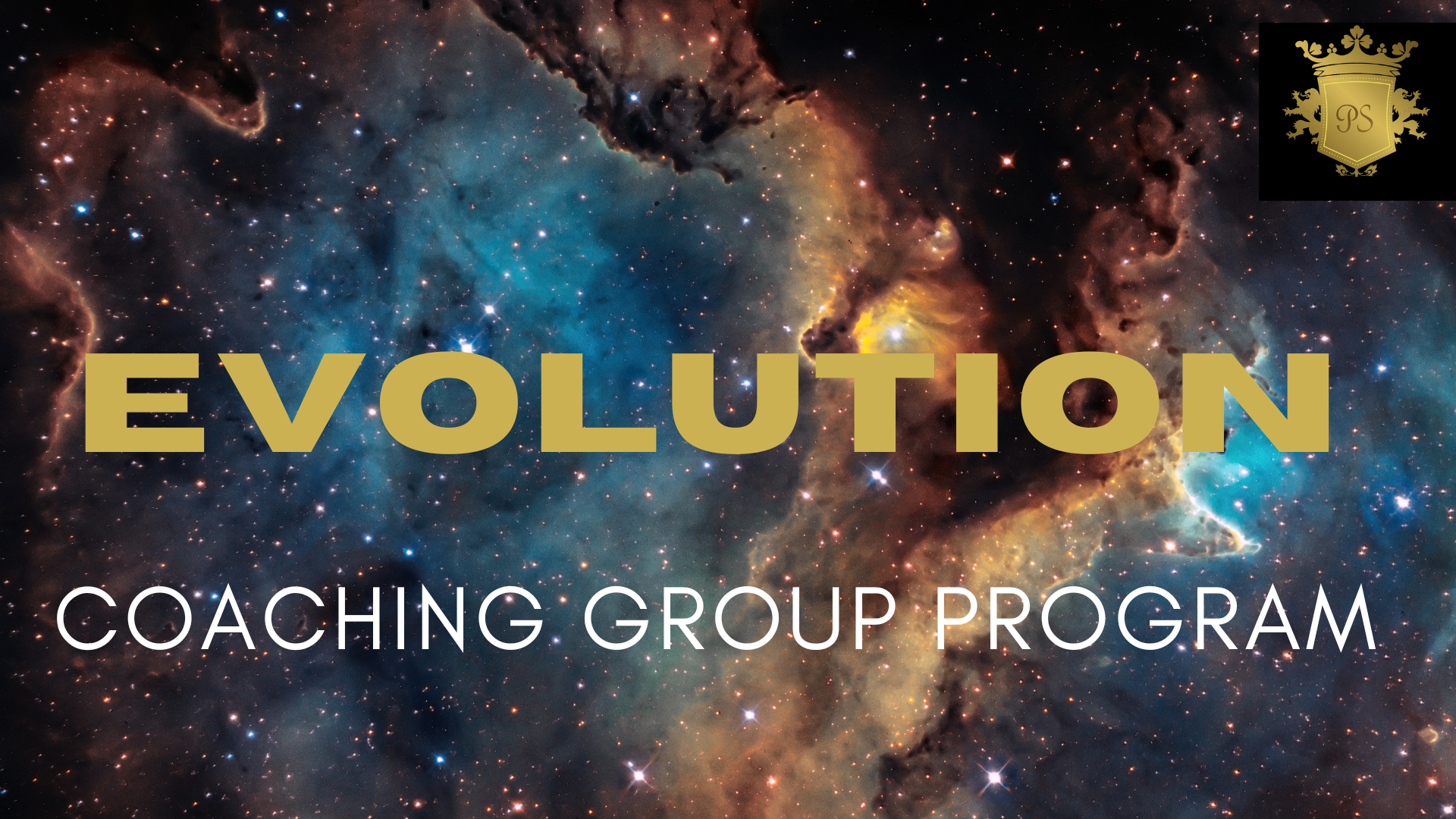 EVOLUTION COACHING GROUP PROGRAM
Coaching • Mentoring • Community
"Mind shifting mentorship for the life you were born to lead!"
What does Evolution Coaching Group Program offer?
How are you feeling at this very moment?
How is your energetic level?
Do you feel happy?
Do you feel satisfied?
If something feels off, unsatisfying, or anxiety provoking, it means you are disconnected from some kind of truth. If you resist facing that, little else runs smoothly and problems stack in number and frequency.
Evolution Coaching Program provides you the guidance, teaching and mentoring to remove what's preventing you from a life of thriving. You'll uncover the patterns of thinking, feeling, and behaving that create unwanted events in your life.
Community: In community with the rest of the group we find out what from the past has a hold on the present. Group work is one of 3 most powerful facilitators of change- Coaching, Community, and Accountability. The closeness of the group, having support and receiving feedback is a vital element of the success of this program and this is named in many of the testimonials.
Masterclasses and LIVE Coaching: I'll be giving you the coaching masterclasses on specific areas of psychology that develop your awareness and the skill sets to make change happen. We have live sessions to go through what you're working on, ask questions and receive support. Your coaching experience includes challenges for completion, and this maximises your learning, progress, and confidence in the changes you're making.
The coaching group forum allows you to share your breakthroughs, insights, and reflections, receive feedback and practice new skills. As things unfold, you'll feel the enormous relief that clarity brings and see how easy it is to vastly improve your life.
Today, I organised myself, a pay chat with the boss of a job that I was feeling triggered by and underpaid and undervalued, and I went through the steps and clarified in my mind how the meeting should go. The result is a 3k bonus that I wasn't expecting and more importantly a positive working relationship going forward which to me was just as important. Thank you for all that you do – you are a total inspiration
As a result, you'll experience…
Increased positivity, energy, and enthusiasm.
Clarity and confidence in what's important to you.
A healthier, more in tune relationship with yourself.
Becoming more emotionally secure.
Developing healthy boundaries with others.
Developing self-care and respect.
More trust and closeness in relationships.
I can't express to you really the profound nudge & shift that's happening within me, I feel like Poppy speaks to my core being… her profound knowledge & innate loving way of connecting, has triggered and ignited me to connect with myself.
What will I learn?
So, if life doesn't seem ideal to you just now, it means you've outgrown something and you're ready for a life that fits you better. Hang in there.
Evolution Coaching Group attends to what you're reacting to, i.e., there will a dissatisfaction (or a lot of it), a symptom, crisis, fear or need that you have, and we get to work addressing it from root to tip. When life happens, what's going on is rarely obvious or straightforward, so we surround you with the people on this program, investigate what's going on and get you on the right path quickly.
Do you relate to any of these issues?…
Self-criticism
Feeling you're not where you want to be in life.
Underconfident/second guessing yourself
Anxiety, ruminations, and guilt
Difficulty making decisions.
Procrastinating on important tasks
Worrying about what other people think
Tolerating poor behaviour from others
Being reactive, passive aggressive or depressed
Over-giving
Self-sabotage
Relationship conflicts
People-pleasing
Others taking advantage
In our culture, we often don't talk openly about the real issues, and this causes a lot of harm. People can feel unsafe to speak openly, ask vulnerable questions, appeal for help, or say no to things. As a result, we are experiencing a global mental health crisis, and more conflicts and loneliness than ever before.
In Evolution Coaching Group Program, we address your experiences as healthy social beings should- honestly, naturally, and truthfully and with a view to working together to develop your health and happiness. Therefore, you will quickly start to feel more energised, confident, and secure.
I give you growth challenges which help you measure your progress and you'll be learning how to understand yourself and access information about the world from perspectives that obviously aren't generally accessible. You will be challenged to think and discover your own answers and question the blocks to your own growth.
I owed it to myself to find someone who'd achieved what I wanted and learn direct from them. Poppy was my person and whilst I wasn't sure this would work, I got more than I ever thought I would. Thank you so much, Poppy.
Example Program Modules
Dealing with the Inner Critic

Success Habits and Mindset Mastery

The Shadow

Dealing with Triggers

Dealing with Conflict

Relationship Issues

Fundamentals for Happiness
So, would it help you to?
Connect with and develop friendships with a community of likeminded people supporting each other without judgement.
Develop powerful skill sets for immediately shifting your mood, energy, and focus.
Know how to set excellent boundaries and keep them.
Fine tune your mind, body, and emotions for success
Confidently step into the decisions that are right for you.
Transform what worries and triggers you.
Close out toxic cycles.
Build better habits.
Create deeper emotional connections.
Get more active in your own life mission.
What abilities will it give me?
Ease in tapping into higher levels of insight, clarity, and certainty.
Skill with self-regulation when stressors arise.
Insightfulness as a master communicator
A discerning eye for red flags and the integrity to address them straight away.
A positive, solution-focused attitude.
The confidence to make change happen in short periods.
The awareness for making healthy relationship choices and developing them meaningfully.
Easy management of expectations without conflict
The insight for understanding behaviours and insecurities so they don't threaten you.
Knowing how to say things which can make the difference between closeness and conflict.
I'd like to say a heartfelt thank you, I had to overcome a fear of psychology and psychotherapy to be perfectly honest because of what I witnessed with my mum's experience whilst I was growing up. In fact, my first book into the subject was how to survive without psychotherapy. However, having followed Poppy for some time and loving her fun, open, genuine, encouraging approach, I felt a trust in her for my next step and i am so glad and grateful I did. The roots of my tree had not been looked at for some time and I instinctively knew that this part of my story did need to be addressed, the timing was right. With Poppy's and Vicky's insightful guidance and the love and support from the whole group, I've been able to grow and expand in a safe space. I have been very touched by the process. The dream I had ordered would have been a challenge too far on my own, However, in this group I felt safe to do so. I am truly grateful for you all. Much love, I wish all of you success in whatever you do, you truly can be successful.
How can I use what I'll learn here?
You can use your learning for more self-aware, grounded decisions about important life choices.
To protect yourself from negative cycles that can harm or sabotage you.
You can actively invite more of what you're worthy of.
Your relationships can be improved and more fulfilling once you know the fundamentals for mastering communications.
To deliver or build your own work, career, and unique edge.
To redesign your outer world so that it matches the standards you now hold for yourself.
ASM (Academy for Self-Mastery) changes your life! If you want to see yourself grow, be your best self, live your most amazing life, Poppy will teach you the tools and support the journey.
Who can benefit from this program?
Everyone. People join this program at different consciousness levels, you may be new to this, had coaching and therapy before or you're a practicing professional yourself. No matter where you are today, I have the content and coaching to meet you where you are and together, we can get you to a place you want to be.
I just can't describe how this has been a gamechanger for me, my outlook on life and my excitement for the future. My relationships are closer and happier, I've gotten healing with issues in my family, and I know this sounds cliché, however, I really didn't think these things could happen for me. I got so much more out of this than I expected.
Evidence that this works…
The transformative nature of the program is embedded in the research-based approaches gathered over my 25-years of practice as a psychotherapist, coach, psychologist, and trainer. The power and strength of Evolution Coaching is also in large part due to the collaborative culture of the program group work.
I feel grateful every day for having enrolled in this program, If only I'd have met you years ago, Poppy. I guess I wasn't ready to get out of my own way and be this happy until now. Thank you, Poppy.
Evidenced-based approaches we use:
Evolution combines these elements for your coaching experience:
Practice-based learning (learning whilst doing)
Research-based methods (approaches are proven to be effective)
Psychotherapeutic enquiry (deeper skills for greater change)
Active Challenges (accountability for making changes)
Emotional connection (Evolution group community)
Live engagement (access to me and others professionals in real time)
What are other people saying?
Here's a few things people have said recently:
Just one these videos changed the way I see my entire life – Vanessa A
I finally walked out of repeated depressions- Laura P
I am anxiety free for the first time -Harrison S
I am awakened, excited, inspired to be healthier and better for me and everyone -Sacha L
I was less-than-honest with myself about how my life was, I've gone from hell to paradise -Karen C
I am beginning to trust myself now because of this program-Alessia G
I didn't think these kinds of breakthroughs were possible. -Katherine K
I finally found healthy self-regard -Clare F
I had a major shift in confidence -Felipe S
I moved into things I actually care about and want to be doing -Dominik M
I asked for a pay increase and got it because I value my time and contribution more -Nathan J
I started my own business -Tory C
I love my life now -Ava M
I confronted the people who hurt me, reclaimed my power and shed the shame -Tatianna P
I've become so much more functional and alive with hope- Jamie J
I step into deeper connection with others now and I am myself for the first time -Elicia P
I got out of bed for the first time in 6 years because I found hope- Gemma K
I have great friendships now and some of my best friends are people I've met on this program- Jamie H
I am more at peace because I trust myself -Michelle K
My relationship with my daughter has improved vastly since doing this -Deana S
*The above testimonials come from DMs, emails, and social media comments.
How fast will I see results?
With each session, masterclass and challenge you will see differences in yourself and how you see the world. It's the small shifts that allow for the bigger changes to take place. The more you immerse yourself, the more change you'll see, feel and experience.
How long does the program take to complete?
Addressing your health and happiness is not a one-time thing, it's not an event. Just like physiology, if we want to be healthy, we need to eat well, sleep regularly, exercise and so on. Health isn't something you do once and then you're done, it's a lifestyle. No one can do this in 2-3 months if they're serious. I am giving you the benefit of my 25 years' experience to help you turn your life into what you want it to be.
For me, here's how I decide on my trainings: "Is the skill set I'm about to gain important for my long-term success?" If it's a yes, I learn it.
Therefore, many people work and train with me for 18 months or more. They are extremely satisfied with their changes and achievements which are sustainable because they've done it properly. I want to get you on the road to success and the longer you stay, the more benefits you'll get.
How much time do I need to spend on it per week?
It's 2 hours a week of course material plus the time you'd like to spend connecting with your group and spending time on the resources.
Learning from the experiences of others, interacting, and receiving peer support is a vital element of the program's success. Group engagement is a requirement for membership.
Who teaches the program?
Evolution Coaching Group Program is taught and developed by me, Poppy Sprague.
My 25 years of experience as a psychologist, coach, psychotherapist, and educator has enabled me to create this highly valued and sort-after program.
I see clients individually as well as in couples, families, groups, and organisations.
I started my career in mental health facilities and moved on to my own private practices on Harley Street and in South Kensington, Fulham and Covent Garden, London. I've also taught doctoral psychology students and professionals both academically and for clinical supervision with their own client work. I currently work in private practice online and in person with individuals, students and professionals. Please see the services page for more details.
How does the Coaching Program work?
1. This is a 100% Online Course: 
You'll receive login details to our private membership portal which you can access from your smartphone, laptop, tablet, or PC. You will also join the Evolution Coaching Program Facebook Community, where you will go live and connect with your peers as an integral part of your growth.
2. LIVE Q&A's & Masterclasses:
I am your personal mentor throughout the program, I'm here to guide, answer questions and help ensure that you are successful and achieve what you're here for. If you miss a class, you will have the opportunity to watch it on replay.
3. Video classes:
I provide you with the video masterclasses addressing the major life experiences and concepts we are working through. Some examples are; success habits, dealing with triggers and boundaries and so on.
4. Group Connection and Peer Support:
You'll be gaining community with learners like you from all over the world. Group interaction is a huge part of what makes the program so enjoyable and transformative, it's likely you will build solid friendships from the group experience.
Evolution Coaching content:
Released weekly and structured so you're participating in group challenges and practicing what you're learning.
Regular LIVE sessions: 
Where you can ask me direct questions and receive feedback in real time.
Private Online Members Portal:
Accessible always from your smartphone, PC, laptop, or tablet.
Private community:
Unlimited access to our exclusive community where you get to connect with your coaching program peers, share ideas and insights and receive support.
EXCLUSIVE BONUSES WORTH £597
Masterclass Library a catalogue of bonus teaching sessions from Poppy (includes dealing with anxiety, anger, relationships, toxic empath, boundaries etc).
Guest Interview Library (VIP interviews and masterclasses covering many areas (including book writing, healing, and psychiatry).
Premium Content (includes billionaire success habits, mindset mastery, abundance mastery etc).
Guarantee
If you do the work, ask the questions, and take the feedback, Evolution Coaching Program will change the trajectory of your entire life. That said, if you enrol and feel it is not for you, we do offer a 30-day money back guarantee.
I got my life back because of this program.
How long do I have access to the program content?
You have access to the program for the duration of your membership.
I've been in personal development for ages, will this have anything to offer me?
Absolutely! Evolution Coaching Program will inform and stretch your previous trainings. Commitment to personal development allows you to deepen your skills and awareness. To reach new levels of consciousness, you need different insights, skills, and tools to do so and that's what this program provides.
My job is to take you to the next level based on where you are today and the competencies you have already.
Can Evolution work for depressed people?
Yes. It is my experience that some depression and mental health issues happen or are made worse because of a lack of education from programs like this.
I've developed programs using Evolution methods in mental health facilities as well as online and they've been highly successful. I've also had depressions myself and whilst there can be biochemical elements which make change very difficult, most people can live very healthy, happy lives using the methods and insights taught in this program.
Ultimately though, you are the vital element to the success of the program, the degree of time, energy, and attention you put in is the degree to which you will get back.
Evolution Coaching Group Program
Just £97 a month or
Enrol for 3 months £247
(saving £44)
I have worked with Poppy for some time now and I have learned so much from her on how I get to change in order to feel more empowered and confident in general, and in difficult conflicting circumstances. Her Leadership and guidance with empathy, love and compassion always helps me feel held and supported with my learning and growing. She is a genius in her field of expertise and her programs, without a doubt, will change your life. If you dare to invest in yourself and take a chance on yourself, your investment will give back in abundance. I have never experienced a Therapist/Coach like Poppy who is so passionate and caring about changing people's lives, and she gives everything she's got and more. I love working with her and I am a student of life, for life.
I feel very grateful for Poppy and all her amazing talents and divine timing. When I started this is I was so deep in mourning of a job that I thought was going to be amazing but from my experience and hurt of how it ended, I was so wounded, and my mind was so filled with the constant stories I had taken to a rubber band just to stop myself. I now see the gift in that experience, I was seeing a lot of gifts and I am thankful that I tend to have ability to do that but what's become very clear for me is a lot.
So, this was an incredible blessing in that I was feeling so traumatised, and I wanted to do anything to find out what wounds were being triggered.
When feelings come up now, I'll allow myself to feel them instead of being lost and maybe reacting and it happened so organically, and I was so loving to myself and there's more of that. I'm excited to go into the next program with the idea of this gentleness (like I am with others) and with that, be more protective of myself first so that when I situation is not ok, I am ok and solid that I recognise that there's a problem.
I feel a lot more in control. The sharing with the group and everyone holding space so that I could go deeper and go deeper, there's just such an incredible value in that. I think for most of my life my indecision or questioning, something that's telling me I don't feel quite right and I'm getting clearer, instead of shutting down and just being in that void and then falling into a situation when I am triggered, I am feeling the feelings. I didn't even know I wasn't feeling the feelings. I've had a great work conversation and we were on the same page and there was a lot of excitement and a request to speak again soon. So, I am very excited to keep doing this program, I am looking forward to diving even deeper. I know it's gonna be great!
Right…it's my turn, here goes.
I too have been single for quite some time now following the most disastrous of relationships which ended in early 2020. It left me feeling a totally broken man, so much so that if I hadn't stumbled across Poppy Sprague, I don't think I would be here now. Fortunately I had the courage to reach out and take the plunge, spending pretty much everything I had, investing in self through her Academy of Self Mastery…called Unapologetic You, which over the course of nine months and working with some truly beautiful, lifelong friends (I'm not going to mention everyone, they know who they are) changed my outlook of both myself and the outer world completely.
To the point now where, as I'm sure you can all see, I'm mentally / emotionally balanced, eating well, loving myself, super confident and able to give from the overflow (and very much in love with The One).
Will this really work? What if I fail again? Will this really change me? Can this make me feel better about myself? Will this help me not be angry, mad, mean, sad, depressed, manipulative, emotionally abusive to myself and others? Will this bring joy, love, peace and understanding to my life?
The list of questions and hopes I had for myself when I began with Poppy could go on and on. The answer to all the questions above is, YES!
I did not even think I was worth the investment to start with this program. I am so thankful I tried one more time.
I had not given up on the dreams I had for myself. I had just forgotten how to dream, and I had no idea how to heal! I knew I was bleeding on the people around me. The people I loved. I could see it! Empathy had taken over. If I couldn't fix me, I would fix everything and everyone else. Then I found my worth! Within this program I found myself. I found a person deep inside me who could finally choose what was best for me. I could fix ME! I don't have to fix anything anymore. I just get to be authentically me and love myself and others too. I show up messy, sad and sometimes crying, however I still show up. So here is a tip. If the above questions are ones, you ask yourself, take a chance on you! It will change your life! Invest in you because you matter, and you are priceless! Show up for yourself because you are worth it!! Your future self will thank you! You will gain confidence. You will discover your truth. You will see yourself through new eyes that are filled with love and caring. You will find an honesty that shines. You will heal parts of yourself you didn't know needed fixin. Most of all, you will love yourself.